打饱嗝、恶臭的脚丫子和几首诗
来源:Guardian(卫报) 编辑:Vicki
David Cameron的朋友,紫色罗尼背后的最富有的人,你有很多理由讨厌Giles Andreae,但是永远不要用封面来评价一本书。他因为写歌而赚了不少钱,情人节前夕,Andreae的四本书,包括《世上最好的男朋友》、《世上最好的女朋友》、《完美情人》等都是前15的热销书。2008年,《最好的父亲》和《最好的祖父》两本书更是雄霸书市排行榜首。
Bottom burps, stinky feet and other poems
Old Etonian, friend of David Cameron, the (very) wealthy man behind the Purple Ronnie franchise(选举权) ... there are numerous (众多的)reasons not to like Giles Andreae. But, warns Jon Henley you should never judge a book by its cover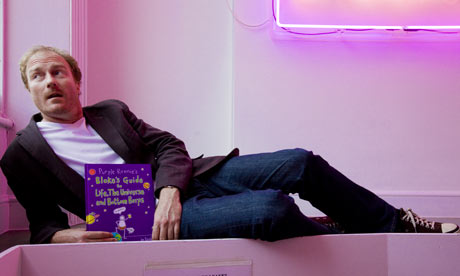 Let us count the reasons not to like Giles Andreae. He went to Eton, and to Oxford. He shares a bright and airy office in Notting Hill with Richard Curtis. And with Mariella Frostrup. Hes a very old, very good friend of David Cameron. And he must be worth (Im guessing, but I cant be very far wrong) substantially (充分地)in excess of £5m.
He makes that much money writing ditties(小曲) such as this: "Youre a very special person/And you mean a lot to me/When youre around you make the world/A better place to be." Or this: "I know that it sounds cheesy(劣质的)/But Im telling you its true/Its fab(极好的) to have a Mum/Who is as marvellous as you." Then he illustrates them with stick-figures a five-year-old might be proud of, puts them on a greeting card or into a Little Book, and sells them. So far, he has sold 80m cards, and five million books.
In the week before Valentines Day, four of Andreaes Purple Ronnie books, including those for the Worlds Best Boyfriend, the Worlds Best Girlfriend and the Perfect Lover, could be found in the top 15 of the Sunday Times non-fiction bestseller list. In 2008, at Fathers Day, the Little Books for a Smashing Dad and a Smashing Grandad occupied the top two spots in the same chart.
This year, his latest, the Little Book for the Worlds Best Dad (sample line: "Although Mums hardly ever fart, Dads hardly ever stop"), was well up there too. Since last month, his work has had an even wider audience: millions of Google Mail subscribers can now personalise (使个性化)their emails with one of Andreaes Edward Monkton characters, created specially for the service.
And then you meet him, and he turns out to be the kind of man you might run into in the pub and get on with well enough to consider inviting round to supper the week after next, perhaps with his wife, who works - you couldnt make this up - for Boden, the catalogue company favoured by Cameron and run by fellow Old Etonian Johnnie Boden. Infuriating, really.
It doesnt do, though, to question the merit of his work. "Whats the function of poetry?" he asks, with that Cameroonian mix of earnestness (认真)and enthusiasm. "Its to express general truths, to connect with the reader and make him think: Wow, Ive experienced that, but youve expressed it so much better. Ive got whole folders of letters from people, servicemen for example, whove told me they have used my cards to express their feelings, or read my poems out at their weddings."
Purple Ronnies poetry? "How many ways do I love you?" he recites. "I think there are probably two/The rumpety pump way is all very well/But I like the soppy way too. Theres the allusion (暗指)to Elizabeth Barrett Browning in the first line; its fun to play with that. Theres rumpety pump: good Anglo-Saxon words, a bit of a laugh. And theres the sentiment at the end. Purple Ronnie has those two sides: the playful side, the willies, bums and burps(打嗝), but also the sentiment - love, and happiness."
That poem, Andreae analyses, is saying: "I value you not just as a lover, but as a friend. And its pretty tight. Its fluid(易变的), well-constructed verse. It rhymes, it scans, it has a certain charm. Yes, its poetry. At its best, Purple Ronnie puts little thoughts out there, on very high-volume selling items, that people use to make very personal connections with one another. And Im actually very proud of that."
As well he might be. Poetry or no, two years ago he sold the rights to Purple Ronnie in a deal worth a potential £4.8m.
Yet the whole story very nearly never happened, for a reason that may, one suspects, have something to do with why it eventually did succeed so spectacularly. Purple Ronnie began as a stage act for an Oxford revue in 1987. "He was a street poet, alongside comedians, jugglers, musicians, what have you," Andreae says. "The shows compere came up with the name, and the poems were much more bizarre and left-field than they are now."
He thought his odes might work on greeting cards. His mum, he says, was "an inveterate sender, to me and my four brothers. I chose the poems with a friend, and he illustrated them in a very basic fashion, and we printed up 200 or so of them and biked them round the Oxford stationers."
At the time, the cards were "surprising, engaging, unusual. There was nothing else like them out there. Everything was old-fashioned and crusty. These were the greetings card answer to alternative comedy, really." Andreae and his friend, the future novelist James Lovegrove, flogged the cards at 10p a pop. "And they sold. Not in huge amounts, but they sold."
Shortly after, it emerged that "a housemates girlfriends parents next-door neighbour-but-one" was actually a greetings card publisher (the housemate was Cameron; theyre still good friends and godfather to each others children). "He got his reps to go into all these shops and see how many of our cards were left, and they said, Hardly any. So he took them on."
Which, more or less, was when Andreae nearly died. "I was in my last term," he explains, "and I started feeling tired, sweaty. I was losing weight. So I went to the Radcliffe hospital and the oncologist thought that hed found the first man to grow a gill. I was the Fish Man! He thought Id make him famous. I thought I probably had Hodgkins disease, but by the time I had a biopsy and it was diagnosed, it was so advanced that I had to start treatment the next day. That was two weeks before my finals. My first proper shot of chemo was on the morning of my first exam."
He sat his finals while undergoing chemotherapy(化疗). Before that, though, he spent a fortnight(两周) back and forth between Oxford and Bristol nearly every day. "The specialist had told me, almost as an afterthought, that the chemo could leave me infertile," he says. "I asked him if it was possible to store sperm, which it wasnt, really, in those days. But he found an agricultural facility that was good with prize bulls. So I went along, and they pointed me to the staff loo. My dad had come with me. He stood outside the door the whole time."
Given the all-clear, Andreae had - like many an 80s arts graduate - just started work as a trainee account manager at an advertising agency when a chance meeting between his mother and a leading cancer specialist led to him getting a second opinion. "Turns out I was riddled with it," he says. A further eight months of heavy-duty chemotherapy left him "certainly grateful to be alive". Is that what is really behind Purple Ronnies irrepressible(压抑不住的) - some might say excruciating (极为疼痛的)- joie de vivre?
"Maybe it is. Maybe hes a part of me expressing my joy at having simply survived that. And a very secure and happy childhood. Thats probably more important than anything."
Purple Ronnie started to take off in the early 90s, writ large on products such as mugs and toiletries(化妆品). Andreaes other creation, the altogether more whimsical(异想天开的)/philosophical Edward Monkton (sample thought: "Buy me, Lady," said the frock, "and I will make you into a beautiful and whole and complete human being." "Do not be silly," said the Man, "for a frock alone cannot do that." "True," said the Lady. "I will have the shoes and the bag as well") proved no slouch(无精打采的), either. In 2000, Andreae went determinedly mainstream, switching the cards business to Hallmark and the books to Macmillan, since when "weve been selling about 15 times as many of both".
But is Purple Ronnie recognisable(可辨识的) from the alternative, off-the-wall student creation Andreae hawked round Oxford 22 years ago? "Im aware," he says carefully, "that with Hallmark its probably better to write cards about Happy Birthday than about Karl Marx. But in essence hes the same." Now, with his work proudly displayed on merchandise ranging from beachtowels to Post-its to mugs to jewellery to shower gels, Andreae is sitting on the proceeds of a 2007 deal that saw the intellectual property rights firm Coolabi acquire the rights to all his characters, and his childrens books - with titles such as Rumble in the Jungle and Commotion in the Ocean - for a heartwarming £3.3m, with an extra £1.5m in the offing depending, as they say, on "future performance".
The deal includes a commitment to explore possibilities for Purple Ronnie abroad. The character fares well, Andreae says, in Australia, and has hopes in the US. Personally, I think Purple Ronnies appeal will probably always be greatest in a nation whose celebrated capacity for expressing emotion is summed up by Purple Ronnie in his Little Book of Love Poems: "I sometimes find it rather hard/To say I really care/And that I like you quite a lot/But Ive said it now - so there."
At the end of the day, its about "knowing what people really want to say, and saying it for them", Andreae reckons. Distressingly(痛苦的), it seems that what we really want to say is stuff like: "This poem says I love you/And you make my life complete/Except for all your bottom burps/And your stinky feet." But you cant really blame Andreae for that, can you?
Keke View:Try to find yourself in his books!
来源:可可英语 http://www.kekenet.com/read/200907/77012.shtml
本文地址:
http://www.ahuilx.com/?p=18
关注我们:
请关注一下我们的微信公众号:
扫描二维码
,公众号:aiboke112
版权声明:
本文为原创文章,版权归
asiaplay33
所有,欢迎分享本文,转载请保留出处!